Taiwanese authorities detect 229kg of heroin on a flight from Vietnam
Last update: 13:25 |
25/11/2013
VietNamNet Bridge – The huge amount of heroin was found in a 438kg batch of goods on a flight of China Airlines from HCM City.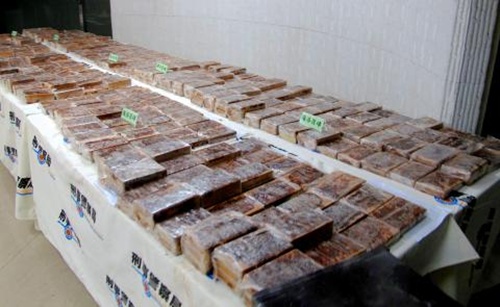 229kg of heroin detected by the Taiwanese authorities. Photo: AFP.
The Taiwanese authorities on November 17 arrested seven suspects and seized 229kg worth $300 million, which was hidden in a cargo plane of China Airlines (Taiwan) which came from Vietnam.
Mr. Tran Cao Thuan, China Airlines representative in HCM City said that the airline received a transport order via email of the HCM City-based Korchina Logistics company at 10.05am on November 14.
This is a familiar client of China Airlines. The goods registered in the order is 12 speakers weighing 400kg and the sender is the Le Hoa Trade-Delivery Service Co., Ltd.
11am on November 15, the batch of 12 speakers was checked and delivered at the Tan Son Nhat Cargo Services in Tan Son Nhat Airport, HCM City. The goods were then put in a box coded AKE65814CI and moved into to plane with the supervision of the China Airlines staff.
This flight departed from Taipei, through Penang (Malaysia) and Ho Chi Minh City (Vietnam). In Penang, goods were dropped and new goods were loaded into to plane and then the flight continued to HCM City.
At 6.40pm on November 16, the aircraft made transit at the Tan Son Nhat Airport. Goods from HCM City were loaded into the plane, including the 438kg batch of Korchina Logistics agent.
At 11pm, the plane left HCM City to Taipei. The plane landed at the Taoyuan International Airport at 3.20am on November 17. The batch was inspected by the Taiwanese authorities and police dogs found 229kg of heroin hidden in the speakers. Heroin pieces were covered by chocolate to avoid being detected by police dogs.
Shortly after the shipment was seized, the representative office of China Airlines in HCM City was informed of the incident. According to Thuan, China Airlines is associated with the customs and security agencies to investigate the incident.
According to the China Airlines representative, this is the biggest case of heroin transport in the firm's history. Normally, the airlines only receives goods via agents, not from individual clients to ensure credibility. "Upon receipt of orders, we only know the name of products and the weight. Classification and inspection of goods are performed by the authorities," said Thuan.
A leader of the Vietnam General Department of Customs confirmed the case. The customs agency is working with security agencies of Vietnam and Taiwan in investigation but details are not disclosed.
X. Hai
---------------------------------------------
Police seize 230 kg of heroin off plane in major drug bust
Taipei, Nov. 17 (CNA) Authorities seized 229 kilograms of heroin from a cargo plane at Taoyuan International Airport and made several arrests Sunday in the largest drug bust Taiwan has seen in the past two decades.

Police and customs officials searched the plane after it landed at around 3:20 a.m., discovering 600 bricks of the drug worth an estimated NT$9 billion (US$304.6 million) hidden in audio equipment shipped from Vietnam.

Seven suspects, including a man surnamed Weng who is believed to be the head of the operation and several warehouse workers, have been arrested.

The find and arrests mark the end of a two-year investigation that involved law enforcement in Taipei, New Taipei, Taoyuan County and Kaohsiung along with customs agencies.

Authorities reportedly conducted wiretaps on around 20 phone lines with court permission this month alone to crack the case.

Justice Minister Luo Ying-shay lauded prosecutors and police for their hard work, noting that they had only made use of wiretapping when necessary as a "weapon to effectively strike against criminals."

(By Huang Yi-han, Liu Chien-pang and Wesley Holzer)